Podcast: Play in new window | Download (5.1MB)
Subscribe: Apple Podcasts | Stitcher | TuneIn | RSS
Casino : Treasury Brisbane
$300 buy in
Half table
SO-L
5 players all seasoned (I now consider myself in this category)
3V equivalent set
Bought in and I wasn't settled yet and dice came straight to me, I passed. Looks of surprise on the other players faces. I should have shot straight away, as I didn't get the dice for another 20 minutes and once again I'm on the clock, playing in my lunch break.
What was most different about this session is that I tracked my roles on paper not just with a chip count! Up until today I felt self conscious and embarrassed about it, because I have not seen anyone one else doing it. Granted I haven't played a lot of craps over the years, and since I became a student of the game, I have logged only 18.15 hours table time so far.
I thought I'd make it look like I'm part of the crowd and grab a Baccarat tracking chart and pencil and just use that rather than bring out a little notepad.
Now that I'm no longer a charting virgin, I don't feel bad about it all, no one paid me any attention about it, either from the players or the crew. It only took less than a second to write down a number after a decision on the dice, so I'll now be tracking my rolls each and every time. I'll even get a little note book for next week session.
Basically it was another chop session, with little in the way of break away rolls from anyone. In fact I had my worst session yet in terms of shooting. See card picture.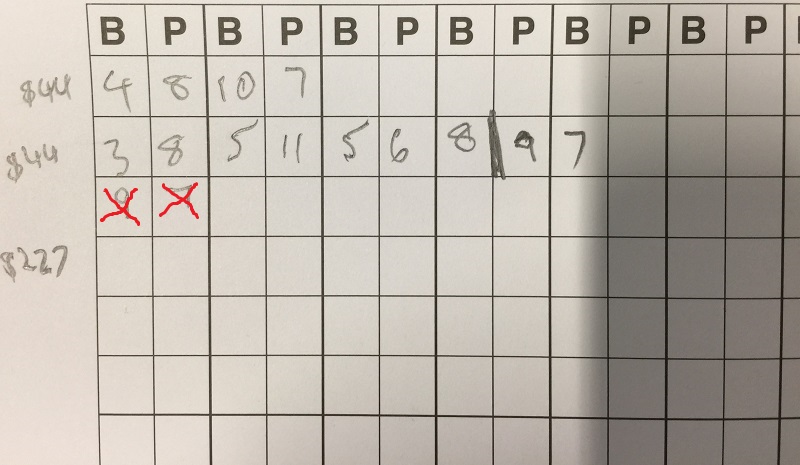 3 rolls, 7 rolls (made 1 point), and then PSO. So embarrassed by it, but learned a lot again.
Straight out is hard for me, as I have a right shoulder problem at the best of times, and find it hard to get the dice down the end together. I also fell down some stairs a few days ago and my back is now shot.
No excuse I should have therefore bet accordingly and went dark side across the board.
I used SIA one hit can't miss, $10 DP and $6 six and eight on all other shooters which kept me level and ahead a bit. Then tanked badly on my own rolls.
Hmmm lots of lessons for me there. Nothing wrong with using the same strategy on myself until I warm up.
I was about to change strategy to $44 inside 2 hits and down on all players to get my chips back, looked at the clock and was at my time limit. Oh well.
Have to recoup my losses next week.
For those that are following my journey, here's a summary of my sessions to date…
| | | | |
| --- | --- | --- | --- |
| Buy In | Colour Out | Delta | Percent |
| $ 4,850.00 | $ 4,573.00 | -$ 277.00 | -6% |
Coloured in $227 (-$73) in 1 hour and 30 minutes.