Podcast: Play in new window | Download (6.4MB)
Subscribe: Apple Podcasts | Stitcher | TuneIn | RSS
Casino: Treasury Brisbane
$300 buy in
Half table – Right side
SR-1
2 – 4 players
3V equivalent set
From the outset this was a session like no other I've had to date. I walked into the Casino following my nose to the craps table on the second floor, turned the final corner and my heart sank. The craps table was gone and 2 Caribbean Stud tables were in it's place. I thought WTF is going on here.
Looked around couldn't see any sight of it. Asked a dealer on a roulette table with no one on it, and she didn't know.
Walked around until I found a dealer on the floor that I recognised that regularly worked on the craps table, and he pointed me to a hole in the wall off the main gaming floor. They had just 3 days earlier moved the table into a small side room, like a craps pit someone might have at home. I don't know if this is it's last position before being dumped from the floor altogether, but I look at it as a step in the right direction as it's less noisy and has a nice feel about it. Downside, it's not visible and won't attract attention. I'll make sure to be inclusive to all new players that happen to find the room and get them onto the table.
The table had no drop box and had not been setup yet, so my small lunch time 1 hour window was dwindling. They said come back in an hour. Damn.
Thought what the hell, and went to play some Mini Baccarat. Won $17.50 and went and had lunch and went back to work.
I just couldn't help myself though, I had to try out that new craps table.
The table had been given a new lease of life with a new black layout. Very nice. It even was not as spongy under the finger press test as it was before.
I took an early mark from work and gave myself 1 extra hour to have a game of craps.
The dealers seemed much happier with the new table location as did the players, including myself.
Did the old one hit can't miss play ($10 DP, $6 six and eight) on others, and was really itching to get started on my own game. With my trusty little notebook and small casino grade pencil at the ready, it was on… (not).
I promised myself I would try Heavy's $66 inside play, and I mentioned to a craps player (new youtuber Marc – search for Full Press Craps) that I would work my place bets on the come out.
With all my variables turned upside down already, I couldn't include the $66 inside working on the come out play, I'll save that for another session.
Long story short, I couldn't get it going at all today. So embarrassing. Nothing past 6 rolls.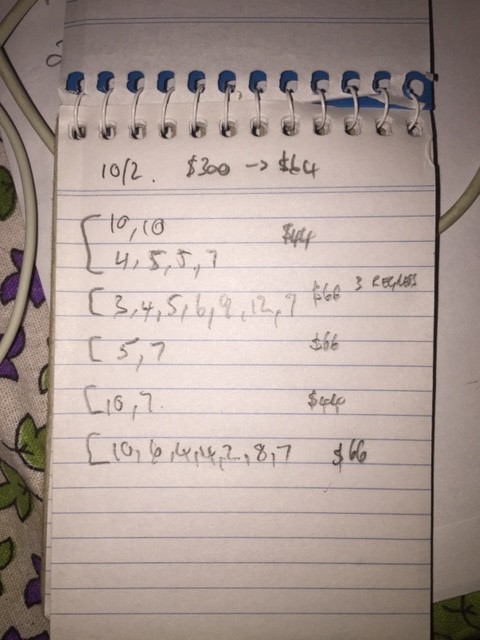 10, 10
4, 5, 5, 7 ($44 inside)
3, 4, 5, 6, 9, 12, 7 ($66 inside took 3 hits and regress to $22 inside)
5, 7 ($66 inside)
10, 7 ($44 inside)
10, 6, 4, 4, 2, 8, 7 ($66 inside)
I'm still going through the session revisiting my throw and what I could do differently next week. I've got some ideas to try. The table is not as bouncy, and you can hear the dice a little bit as they hit the table. Never could before.
I actually got so frustrated that I stopped betting for a bit, and thought I'd try a few field bets (cringe) while waiting and looking for field twins to show with a Fibonacci negative progression. If a field hits then make a bet looking for the twin repeat. I worked my way up to $50 on field and lost that one as well and didn't have the balls to pony up for the next bet. However as it turns out, if I had of made that bet on the next field twin, it would have won, and I would have dropped back to $10 then I would have kicked into my positive progression, and the guy rolled 6 fields in a row after that twin reversal. That would have been a very nice progressive field run.
Jeez, it was just one of those sessions.
Colour in $64 (-$236) in 1 hour